Time Travelling Pocket Watch could be redeemed free from the shop by using the code one received in The Idol Times about Daily Quests and the Descent Into Darkness campaign sent to players on August 13, 2015.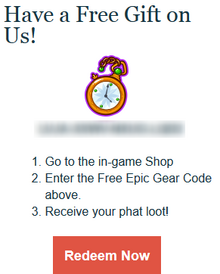 Ad blocker interference detected!
Wikia is a free-to-use site that makes money from advertising. We have a modified experience for viewers using ad blockers

Wikia is not accessible if you've made further modifications. Remove the custom ad blocker rule(s) and the page will load as expected.