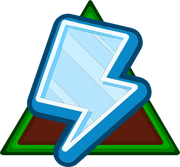 Storm Rider is an ability of Thalia, the Thunder King, available at the sixth upgrade, Frosty the Snowman at the fifth upgrade and Littlefoot at the fourth upgrade.
Every time the Storm Rider ability is used, it increased the current DPS by 10%; after use there is an 8 hour cooldown period, this may be reduced by the use of trinkets that can be found within chests and upgrading Storm's Building talent. Detective Kaine's, Larry the Leprechaun's and Mister the Monkey's skill Magnify increases the effect by 50%, resulting in 15% of total Damage Per Second added. Therefore, as Storm Rider has relatively long cooldown, it is recommended to use Magnify before casting Storm Rider.
Storm Rider can only be used when Thalia, the Thunder King, Frosty the Snowman or Littlefoot is present in the current formation. The effect of the ability persists even if you remove these crusaders from your formation.
Effect of Storm Rider doesn't stay after you reset. (Bug is now fixed v 0.32 ).
Ad blocker interference detected!
Wikia is a free-to-use site that makes money from advertising. We have a modified experience for viewers using ad blockers

Wikia is not accessible if you've made further modifications. Remove the custom ad blocker rule(s) and the page will load as expected.