Graham the Driver is an exclusive crusader only available by donating to the Desert Bus for Hope charity fundraiser in 2016 and 2017. Donations are made at desertbus.org/crusaders.
Graham the Driver can swap with The Bush Whacker, RoboRabbit, Warwick the Warlock, and Slisiblyp, the Alien Scientist. As such, he cannot be used in the formation with these crusaders at the same time.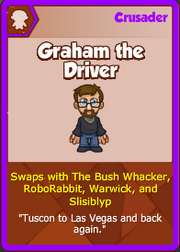 Upgrade
Level
Cost
In-game Description
Bussin'
10
200
Graham the Driver increases your Click Damage by 10% of their DPS
Quote: Busser's Gonna Bus. Clicker's gonna click.
The Dance Button
25
1.00K
Increases the Base DPS of Graham the Driver by 100%
Quote: When the button is pressed, you MUST dance.
Splat
50
8.00K
Increases the Base DPS of Graham the Driver by 200%
Quote: Five hours down, three to go.[1]
The Benevolent Device
75
80.0K
Unlocks the 'Click-o-rama' ability:
Automatically performs 10 clicks per second.
Quote: Hey, that's not so bad!
Bus Stop!
100
400K
Increases the DPS of all Crusaders by 50% when the formation isn't moving
Quote: Open the door. Close the point. Get!
Point Get!
150
3.20M
Increases the DPS of all Crusaders by 1%
Quote: Was it worth it? I think so.
Quadruple Madness
200
752M
For every 25 levels over and including 200, Graham the Driver's DPS is multiplied by 4x. This multiplier stacks.
Quote: This is madness!
References
Edit
 

Slots 1-10

Slot 1
Slot 2
Slot 3
Slot 4
Slot 5
Slot 6
Slot 7
Slot 8
Slot 9
Slot 10
 

Slots 11-20

Slot 11
Slot 12
Slot 13
Slot 14
Slot 15
Slot 16
Slot 17
Slot 18
Slot 19
Slot 20
 

Slots 21-24

Slot 21
Slot 22
Slot 23
Slot 24
 

Slots 25-27

Slot 25
Slot 26
Slot 27
Ad blocker interference detected!
Wikia is a free-to-use site that makes money from advertising. We have a modified experience for viewers using ad blockers

Wikia is not accessible if you've made further modifications. Remove the custom ad blocker rule(s) and the page will load as expected.