Crusaders of the Lost Idols is a 2D top down game created in July 2015 by Codename Entertainment. It is an incremental role-playing game where the player controls various NPCs, known as Crusaders to defeat incoming monsters. The game utilizes idle tactics as well as active game play to earn gold (the game's main currency) to purchase Crusader levels and upgrades. There are also various equipable items that players can unlock via chests that are awarded after boss battles. Like most incremental games, there is a pseudo "prestige" implemented in the game in the form of a World Reset that unlocks "Idols" which increase Crusader damage as well as gold accumulation.
This wiki is very much a work in progress, as is the game. If you're playing, this is where you can add the stuff that the player who created it hasn't gotten to yet!
You can play Crusaders of the Lost Idols at Kongregate, Armor Games, or Steam.
For the official forum, visit http://forum.codenameentertainment.com/
The Idol Times Edit
Signing up for The Idol Times will give your Crusaders a great piece of equipment to help you on your crusade, as well as give you insider information on what's up and coming in the world of Crusaders of the Lost Idols. Don't forget, there will be plenty of more free goodies on their way as well! Click the image above to read more, and get started!
Campaigns
Edit
Find out about Campaigns to learn more, or view the full Campaign List.
Latest News and Updates
Edit
Thursday 1 June 2017
Edit
Version: v0.112
Tier 4 Talents & Legendary Changes
Features:
Added Tier 4 Talents. Check out the blog post on CodenameEntertainment.com for more information.
Changed the names and icons of Golden Legendary items to match their Golden Epic counterparts
Added the ability to disenchant Legendary Items. You will recover enough Common material to level a Legendary up to whatever level they were, plus credit for a free Legendary Craft, with each disenchantment.
Balance Changes:
The following Legendary items had their effects changed:
The Golden versions of the above items have also been changed
Fixes:
Minor text fixes.
Starter Packs which would award a Golden Epic will now correctly award a Golden Legendary if you already have the corresponding Legendary
Fixed an edge case where Flash Sales would not award the proper Golden Legendary if you crafted the Legendary while the flash sale for the GE was already available
Fixed an issue where Ranger Rayna's Legendary Badge item started with a higher multiplier than intended
(PC) Fixed legendary item previews showing a 0% effect in the event window.
(PC) Fixed an exploit for stacking Warwick's Curse of Weakness with itself.
(PC) Removed the cap on monster spawn speed, which could be reached with spawn speed buffs from missions.
(PC) Fixed a scroll wheel issue affecting some versions of Firefox
(PC) Fixed Gloria's Polymorph ability sometimes not affecting as many targets as it should
(PC) Fixed a calculation issue which made level 2 of the Sniper talent cost 221 idols instead of 220
Thursday 8 June 2017
Edit
Version: v0.113
New Event! The Yogscast Search for Simon
Features:
Added a new Event: The Yogscast Search for Simon ! Runs until noon PDT on June 20th.

This event was created in partnership with the Yogscast team and includes quest text, Crusaders, and monsters created with their help (and blessing)! Check out their always hilarious videos and streams at www.yogscast.com.
Adds two new Crusaders that swap with Emo Werewolf and Sarah the Collector .
Free play is accessible after recruiting both Crusaders, for 2500 Jaffa Cakes each play.
All three bonus objectives unlock after recruiting both Crusaders.

Added a new Golden Epic card for the new Turps the Tasty Crusader that comes with the purchase of any Jeweled YogsChests for real money.
Added a new Starter Pack that is only available during the event and after you have recruited both new Crusaders. It includes several pieces of Legendary gear and chests for the new Crusaders.
Reminder: Chests for Jaffa Cakes are only available in the store until the event ends. The timer counting down until the event ends is visible on the event information pop-up and the objective screen.
Added several new codes to the game to buffs up new players and help them blast through their first play-through and get to the event. These codes are usable by all players. Check out Yogscast and Codename videos and social media in the coming weeks to discover the codes!
Fixes:
Swapped the names of the two rarest Crafting Material missions to be more clear about which one guarantees epic material.
Fixed the icons for Detective Kaine's Mask and Cape Golden Legendary items.
(PC) Fixed healing amounts sometimes not being shown
(PC) Fixed the Click-tastrophy talent's effect maxing out too quickly
(PC) Fixed Golden Epic gear not animating when moused over in the crafting window
(Mobile) Idols Over Time bonus now applying properly to resets.
Thursday 22 June 2017
Edit
Version: v0.114
Alien Invasion Day, Year 2
Features:
Updated the Alien Invasion Day event for year 2:

Added five new tier 2 objectives:

Recruit Slisiblyp, the Alien Scientist : Reach area 300 while Slisiblyp runs experiments
Recruit Red, the Ace Pilot : Reach area 300 while Red covers you
Catastrophe: Reach area 400 while the world is ending
Parasites: Reach area 450 while parasites hop around
War of the Worlds: Reach area 500 while under siege from tripods

Tier 1 recruit objectives will automatically be marked as complete if you recruited their Crusaders via missions.
Alien Chests have been updated to drop loot for any of the four Crusaders, however gear for tier 2 Crusaders will only appear if those Crusaders are recruited.
As before, the event dialog now lets you toggle between tier 1 and tier 2 of an event; you can still complete achievements, earn loot, and do objectives in either year at any time.

(PC) The campaign selection dialog will now display your highest area completed for each campaign.
Fixes:
(PC) Maximizing the game as soon as it loads will no longer cause monsters to spawn in the wrong place.
(PC) Fixed Momma Kaine's Freeze Ray not showing on monsters when something causes them to move faster.
(PC) Fixed a case where daily quest data could become corrupted.
(PC) Fixed a server/client discrepancy in calculating the bonus from Idols over Time.
(PC) Fixed monsters not being damaged in a predictable order when bunched up at the formation.
Minor text fixes.
Chest Survey/Statistics
Edit
Here are two forums for the chests, please share and the more participants the more accurate we'll have it.
For the Chests/Floor - PLEASE DO NOT PARTICIPATE IF ON YOUR FIRST RUN!!!
Chests/Floors: http://goo.gl/forms/yBjEd1u7dl
Jeweled/Chests: http://goo.gl/forms/vg5uhTSdBa
Chest Rarity: http://goo.gl/forms/byyoH3mWLi
Current Data: https://docs.google.com/spreadsheets/d/1wm4n_fEoV_bifAz7XEcF5_oGno4Zy7zt49EnjaOhaA0/edit?usp=sharing
Latest activity
Edit
Site Contents
Edit
New element added to the Crusader information boxes—a little indicator at the top left to show the gender of a crusader at a glance: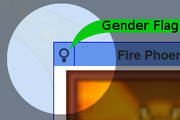 The hover tip also indicates human or non-human, in case it isn't clear from the characterisation. Also shows a

image to indicate crusaders influenced by the Royal Grail ability.
Latest addition is the

image to indicate animal crusaders—as opposed to humans, robots, orcs, etc. For an example of all three flags in use at once, check out Prince Sal, the Merman.