Crusaders of the Lost Idols is a 2D top down game created in July 2015 by Codename Entertainment. It is an incremental role-playing game where the player controls various NPCs, known as Crusaders to defeat incoming monsters. The game utilizes idle tactics as well as active game play to earn gold (the game's main currency) to purchase Crusader levels and upgrades. There are also various equipable items that players can unlock via chests that are awarded after boss battles. Like most incremental games, there is a pseudo "prestige" implemented in the game in the form of a World Reset that unlocks "Idols" which increase Crusader damage as well as gold accumulation.
This wiki is very much a work in progress, as is the game. If you're playing, this is where you can add the stuff that the player who created it hasn't gotten to yet!
You can play Crusaders of the Lost Idols at Kongregate, Armor Games, or Steam.
For the official forum, visit http://forum.codenameentertainment.com/
The Idol Times Edit
Signing up for The Idol Times will give your Crusaders a great piece of equipment to help you on your crusade, as well as give you insider information on what's up and coming in the world of Crusaders of the Lost Idols. Don't forget, there will be plenty of more free goodies on their way as well! Click the image above to read more, and get started!
Campaigns
Edit
Find out about Campaigns to learn more, or view the full Campaign List.
Latest News and Updates
Edit
Wednesday 19 April 2017
Edit
Version: v0.107
Tier 2 Crusader Recruit Missions
Features:
Added 40 new missions to recruit and gear Tier 2 Event Crusaders.

You must have both Tier 1 Event Crusaders from a given event in order to get the recruit missions for that event's Tier 2 Crusaders.
These missions have higher EP requirements than the tier 1 recruit missions.
These missions are in the same mission pool as the tier 1 recruit missions, so depending on the Crusaders you already have, you may get tier 1 Crusaders some weeks and tier 2 Crusaders other weeks.

Updated Flash Sales to allow them to offer the more recent Golden Epics/Legendaries.
Fixes:
(PC) Fixed Alchemy not healing when cast.
Added Sisaron's missing "animal" tag.
Minor text fixes.
Thursday 27 April 2017
Edit
Version: v0.108
Gardeners of the Galaxy Year 2
Features:
Updated the Gardeners of the Galaxy event for year 2:

Added five new tier 2 objectives:

Recruit Spaceking: Beat area 300 with a trigger-happy Spaceking
Recruit Grandmora: Help kind old Grandmora cross 300 streets, without using so much of that newfangled "DPS"
Out of Control: Reach area 400 before the plants consume you
Raid: Reach area 450 while someone tries to exterminate your Crusaders
Slow and Steady: Reach area 500, but don't wear yourself out

Tier 1 recruit objectives will automatically be marked as complete if you recruited their Crusaders via missions.
Requirement for the two Spore spending achievements lowered to 16,500 and 33,000 respectively.
Gardener Chests have been updated to drop loot for any of the four Crusaders, however gear for tier 2 Crusaders will only appear if those Crusaders are recruited.
As before, the event dialog now lets you toggle between tier 1 and tier 2 of an event; you can still complete achievements, earn loot, and do objectives in either year at any time.
Fixes:
Minor text fixes. Keep those typo reports coming!
(PC) General FPS improvement
(PC) RoboTurkey, Ilsa, and Mindy can now affect one another with "Short Circuit" and "What's Yours is Mine"
(PC) Eiralon's blood magic abilities can no longer kill him if he is receiving enough healing.
(PC) Fixed Swordplay not always reflecting current DPS
(PC) Fixed The Metal Soldierette's self healing not being reduced by attacking monsters
(PC) Fixed the xp tooltip sometimes being rounded incorrectly
Chest Survey/Statistics
Edit
Here are two forums for the chests, please share and the more participants the more accurate we'll have it.
For the Chests/Floor - PLEASE DO NOT PARTICIPATE IF ON YOUR FIRST RUN!!!
Chests/Floors: http://goo.gl/forms/yBjEd1u7dl
Jeweled/Chests: http://goo.gl/forms/vg5uhTSdBa
Chest Rarity: http://goo.gl/forms/byyoH3mWLi
Current Data: https://docs.google.com/spreadsheets/d/1wm4n_fEoV_bifAz7XEcF5_oGno4Zy7zt49EnjaOhaA0/edit?usp=sharing
Latest activity
Edit
Site Contents
Edit
New element added to the Crusader information boxes—a little indicator at the top left to show the gender of a crusader at a glance: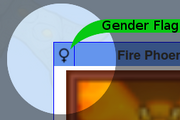 The hover tip also indicates human or non-human, in case it isn't clear from the characterisation. Also shows a

image to indicate crusaders influenced by the Royal Grail ability.
Latest addition is the

image to indicate animal crusaders—as opposed to humans, robots, orcs, etc. For an example of all three flags in use at once, check out Prince Sal, the Merman.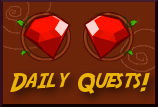 Ad blocker interference detected!
Wikia is a free-to-use site that makes money from advertising. We have a modified experience for viewers using ad blockers

Wikia is not accessible if you've made further modifications. Remove the custom ad blocker rule(s) and the page will load as expected.