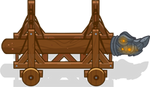 The Battering Ram is a companion in the third objective of Descent into Darkness, Grond! Grond! Grond!. It occupies both the middle and front slot of the formation.

In Tier 1 it has no special properties, only blocking the two slots. In Tier 2 it reduces the DPS of Crusaders in the slots to it's sides by 95%. In Tier 3 it also reduces the DPS and additionally damages the Crusaders in these slots. The slots "to it's side" are the two slots that form the front row in this objective.
Ad blocker interference detected!
Wikia is a free-to-use site that makes money from advertising. We have a modified experience for viewers using ad blockers

Wikia is not accessible if you've made further modifications. Remove the custom ad blocker rule(s) and the page will load as expected.